About the Team
CHRIS BEAUFORT
VP OF OPERATIONS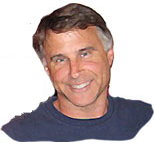 I met Bill over 20 years ago on our first day of orientation at Princeton University. Since that first encounter, our paths have crossed as lab partners, roommates, and co-workers. Over the years, we have revisited a musing that is familiar to many friends who share common business interests: what would it be like to start a company, featuring a product or service that we truly believe in, with the latitude to run the company according to our core beliefs? Well, we know now: it's hard work like any other job, but there's nothing like trying out the fruits of your labor on your family each and every day.
SECRET ALTERNATIVE DREAM JOBS
Political pundit, bike shop owner
FAVORITE MOTTO
If this was easy, everyone would be doing it.
PROFESSIONAL BIO
My road to FamZoo winds through 20+ years of experience with a variety of technology companies. I've had the opportunity to work several times at Hewlett-Packard and that company has had a formative influence in my core professional beliefs. I've also gained invaluable experience at startups in a variety of technology spaces: relational database appliances, software configuration management, internet advertising, and web services security/management software. You can see a more detailed description of my professional background on my LinkedIn bio.